---
These pictures were drawn for various publications and projects. Hydra was done for a DC Heroes game that I ran for a while. the Necromancer was done for a fantasy hero game that I played in. The Demon Chick was done as just something to do one day. The Organgrinder is one of the villains in my DC Heroes game.
All material is copyright © 2001 Jerry D. Grayson
---
Hydra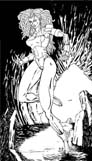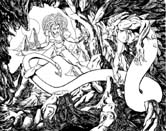 This is the character drawing that I did for my love, Renee. Hydra is about 850 points in DC heroes lingo. A member of an alien race, she is basically the killing machine of the group; a feral killer that's looking for her roots.